←  Back to Changelog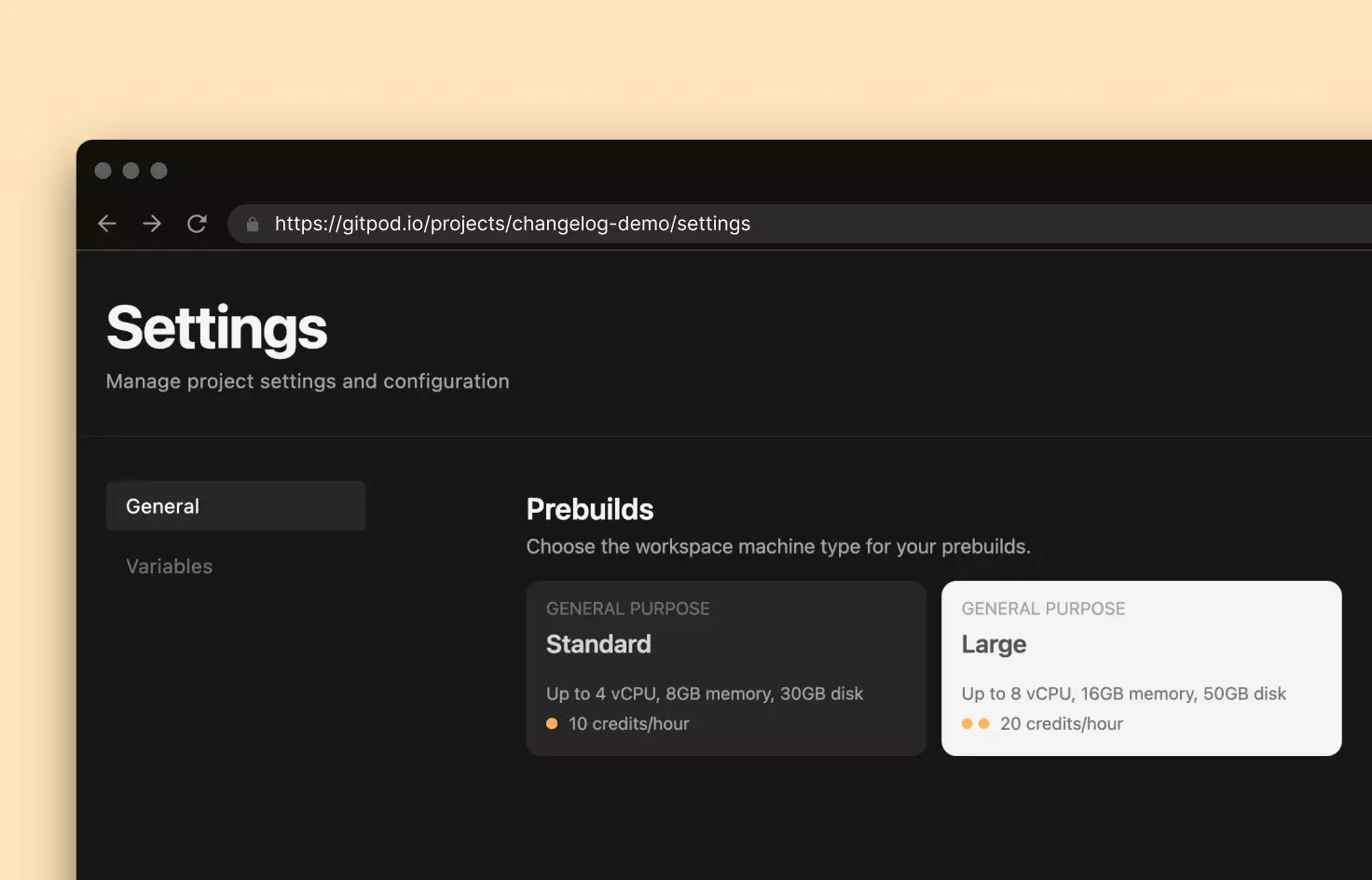 January 31, 2023
January Changelog
Welcome to the January 2023 edition of the Gitpod Changelog!
Key Highlights
Introducing Gitpod Dedicated
Gitpod Dedicated is our new enterprise cloud product - a secure installation of Gitpod managed by us for you. Gitpod exists to remove friction from the developer experience, and the best way to do that is with a managed product in the cloud. We no longer actively support self hosting Gitpod.
To read more, see Introducing Gitpod Dedicated: our enterprise cloud offering
Prebuild Workspace Class

Prebuilds do a lot of work downloading dependencies, building projects, and getting everything ready so you are Always ready to code. Prebuilds often need more resources and power than the average workspace. Now you can configure different workspace classes for your project prebuilds. Check out your project settings for more details.
Workspace Images OS and Node versions update
On February 28th, Gitpod workspace images will be upgraded to use Ubuntu 22.04.1 LTS (Jammy Jellyfish). Additionally, gitpod/workspace-node and gitpod/workspace-node-lts workspace images will be upgraded to use Node 19.0.0 and Node 18.13.0, respectively.
If you'd like to continue using the current OS and Node versions, you may pin the workspace image version by changing the tag from latest to 2023-01-16-03-31-28 (e.g. gitpod/workspace-node-lts:2023-01-16-03-31-28) in your .gitpod.yml or Dockerfile.
Start new workspace with more options
Now you can start a new workspace with more options. You can choose the IDE, the workspace class, and any context url. 🎉
Improvements to reliability
Reliability improvements tend to go unnoticed. No news is good news. But we want to change that.
After countless improvements during the last months, our systems' reliability show significant improvements according to both our internal metrics and direct customer feedback. 😎
RSS Feed for Gitpod Blog
We now have an RSS feed for the Gitpod blog. You can subscribe to it here: https://www.gitpod.io/blog/rss.xml. So you can now follow the latest news from the Gitpod blog in your favorite RSS reader. 📄😎
Fixes and improvements

Dashboard

JetBrains

Gitpod CLI

Workspace

Workspace Images

Documentation

Fixes and improvements